Large-format Colour Photo
HP DesignJet Z9+ Series
Expect nothing less than perfection. Professional photo prints, fast and simple. More quality with fewer inks. 9 ink printer with dual roll and V-Trimmer option.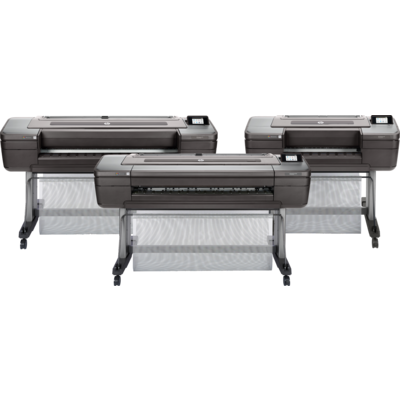 HP DesignJet Z9+ Series
¹HP DesignJet Z9+dr 44-in PostScript® Printer with V-Trimmer – Product ID: X9D24A
HP DesignJet Z9+ 44-in PostScript® Printer – Product ID: W3Z72A
HP DesignJet Z9+ 24-in PostScript® Printer – Product ID: W3Z71A
Service Request
Quote Request
AMAZING — Deliver high quality with confidence
Impress the most demanding customers with smooth transitions and sharp details thanks to HP Pixel Control.
No need for light inks using new highdefinition HP printheads with dual drop technology.
FAST — Work without delays
Cut post-processing labor time up to 20% with the first printer to include an integrated vertical trimmer.
Print up to 2.5 times faster1 without losing quality, with 2400 nozzle-per-inch high-definition printheads.
SIMPLE — New tools for you and your customers

Easily design applications from posters to banners and canvas with the HP Applications Center.
Enjoy one-click printing that also helps reduce media waste using HP Click printing software.
Max Print speed:


769 ft²/hr (71.4 m²/hr ) on plain media
Memory:
128 GB (virtual)9 ; 500 GB self-encrypting hard disk

Ink Types:
Pigment-based
Genuine HP DesignJet Z9+ Inks & Printhead
P2V81A HP 746 300-ml Chromatic Red DesignJet Ink Cartridge
P2V80A HP 746 300-ml Cyan DesignJet Ink Cartridge
P2V78A HP 746 300-ml Magenta DesignJet Ink Cartridge
P2V83A HP 746 300-ml Matte Black DesignJet Ink Cartridge
P2V82A HP 746 300-ml Photo Black DesignJet Ink Cartridge
P2V79A HP 746 300-ml Yellow DesignJet Ink Cartridge
P2V85A HP 747 300-ml Chromatic Blue DesignJet Ink Cartridge
P2V84A HP 747 300-ml Chromatic Green DesignJet Ink Cartridge
P2V87A HP 747 300-ml Gloss Enhancer DesignJet Ink Cartridge
P2V86A HP 747 300-ml Gray DesignJet Ink Cartridge
P2V25A HP 746 DesignJet Printhead
High Speed Printing
High-quality results in as little as 769 ft²/hr.
Dual Roll Option
Cut out unproductive tasks with fully unattended solutions.
Secure
Protect your work and information.
HD Color & Pixel Control
Impress everyone with smooth transitions and precision.

Address: 8809 63rd Ave NW
Edmonton, AB T6E 0E9


Monday              8:30 AM – 4:30 PM
Tuesday              8:30 AM – 4:30 PM
Wednesday      8:30 AM – 4:30 PM
Thursday            8:30 AM – 4:30 PM
Friday                   8:30 AM – 4:30 PM
Saturday            CLOSED
Sunday                CLOSED