Large-format Colour MFP
HP DesignJet XL 3600 Series
Experience the new standard with the most immediate and robust MFP in the market. Print. Don't wait in front of your printer with the fastest first page out in just 29 seconds. Defend your network with the world's newest most secure large-format printer.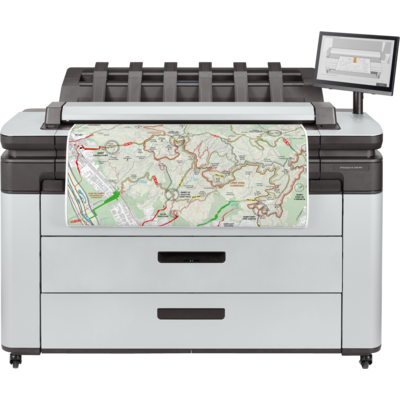 HP DesignJet XL 3600 Series
DJ XL 3600 Single Roll 36″ – Product ID: 6KD24A
DJ XL 3600 Dual Roll 36″ – Product ID: 6KD26A
Service Request
Quote Request
Immediate results – fastest first page out
Don't wait in front of your printer with the fastest first page out, in just 29 seconds
Quickly access your personal and group folders from the touchscreen, so you can print and share right away.
A new standard – experience extreme reliability
Flawless user experience thanks to automatic media loading and print stacking up to 100 pages.
Get the lowest running costs, with mono and colour prints at the same price and using up to 10X less energy.
Secure – world's most secure large-format printer

Rely on the best network protection with features like HP Secure Boot and whitelisting.
Control who accesses the printer and its confidential documents with secure user authentication
Print speed:


180 A1/hr 19.3 sec/A1 3 A1/min
Memory:
128 GB (file processing)
Standard, 500 GB (AES-256 encrypted)

Ink Types:
1 (cyan, grey, magenta, matte black, photo black, yellow)
Genuine HP DesignJet XL 3600 Inks & Printhead
B3P06A HP 727 DesignJet Printhead
P2V89A HP 766 300-ml Cyan DesignJet Ink Cartridge
P2V90A HP 766 300-ml Magenta DesignJet Ink Cartridge
P2V91A HP 766 300-ml Yellow DesignJet Ink Cartridge
P2V92A HP 766 300-ml Matte Black DesignJet Ink Cartridge
P2V93A HP 766 300-ml Gray DesignJet Ink Cartridge
P2V94A HP 766 300-ml Photo Black DesignJet Ink Cartridge
Did you want a live demo of the HP DesignJet XL 3600? Request a Demo.
Call us at 780.413.9660 and an HP authorized representative will give you an exclusive tour for free! 
High Speed Printing
High-quality results in as little as 35 seconds.
WiFi Connectivity
Connect and print right away.
A3/A4 Tray
Small- and large-format prints from a single device.
DesignJet Quality
Bold images and sharp lines on plain paper for any application.

Address: 8809 63rd Ave NW
Edmonton, AB T6E 0E9


Monday              8:30 AM – 4:30 PM
Tuesday              8:30 AM – 4:30 PM
Wednesday      8:30 AM – 4:30 PM
Thursday            8:30 AM – 4:30 PM
Friday                   8:30 AM – 4:30 PM
Saturday            CLOSED
Sunday                CLOSED