Large-format Colour mfp
HP DesignJet T3500 Series
As the most productive, cost-effective HP DesignJet MFP,¹ the HP DesignJet T3500 is built for rigorous IT demands. Meet all your black-and-white and color needs, while enjoying low cost of operation, advanced copy/scan features, and unattended operation.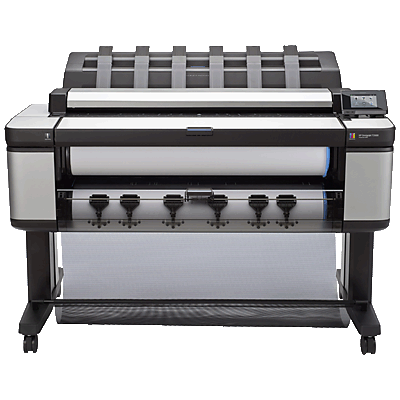 All your workflow needs in a highproductivity MFP
Be the fastest—print D/A1-size pages in 21 seconds with dark blacks, neutral grays, and vivid colors
Copy and scan quickly with advanced features—presets, batch scanning, multipage PDFs, and scan to email
Built for rigorous IT demands and top security
Minimize device-management tasks and costs, using the HP DesignJet Universal Print Driver
Protect and manage confidential jobs securely—retrieve documents at the printer with a personal PIN
A production printer for unattended, low-cost use

Print your black-and-white drawings at the same cost per page as comparable black-and-white LED MFPs
Operate unattended thanks to two heavy rolls of up to 650 ft (200 m) and a total ink capacity of 1,800 ml
Print speed (Line Drawings):


21 sec/page on A1/D, 120 A1/D prints per hour
Memory:
Intel Core i5M-260 processor, 128 GB (virtual),6 500 GB hard disk (AES-256 encrypted, FIPS 140-2 Level 2 certified)

Ink Types:
Dye-based (C, G, M, pK, Y); pigment-based (mK)
Genuine HP DesignJet T530 Inks & Printhead
C1Q13A HP 764 300-ml Cyan DesignJet Ink Cartridge
C1Q14A HP 764 300-ml Magenta DesignJet Ink Cartridge
C1Q15A HP 764 300-ml Yellow DesignJet Ink Cartridge
C1Q16A HP 764 300-ml Matte Black DesignJet Ink Cartridge
C1Q17A HP 764 300-ml Photo Black DesignJet Ink Cartridge
C1Q18A HP 764 300-ml Gray DesignJet Ink Cartridge
B3P06A HP 727 DesignJet Printhead
Up to E/A0 size prints
High-quality results in as little as 35 seconds.
Integrated Stacker
Built-in 100 page stacker
High Speed Printing
D/A1-size pages in 21 seconds

Address: 8809 63rd Ave NW
Edmonton, AB T6E 0E9

Monday              8:00 AM – 5:00 PM
Tuesday             8:00 AM – 5:00 PM
Wednesday      8:00 AM – 5:00 PM
Thursday          8:00 AM – 5:00 PM
Friday               8:00 AM – 5:00 PM
Saturday           Closed
Sunday              Closed